Our NATA accredited laboratory can perform the following testing:
Tensile load testing – Bolts and studs (including ISO 3506.1 bolt extensometer testing), machined specimens, metal bars, plates, wires, plastic and composite coatings from 0.1 to 3000kN.
Compression Testing – Nuts, concrete, plastics, coatings from 0.1 to 3000kN.
Hardness Testing – Vickers, Rockwell, Brinell, Leeb & Poldi.
Bend Testing – Single, three and four point bending of metals, welded joints, metal overlays and claddings and non-metallic coatings and claddings.
Charpy Impact Testing – 'V' and 'U' Notch from 20ºC to -196ºC.
Macroscopic examinations of welded joints.
Microstructure examinations including ferrite point counting (ASTM E562) & grain size determination (ASTM E112).
Shear testing in accordance with ASTM, AS or client specifications.
Corrosion testing to ASTM G48, A923 & A262.
Scaffold member testing.
Rail track testing to AS 1085.20, including visual, slow bend, macro, microstructure and hardness testing.
Fatigue testing to 250kN including FBW and ATW rail welds.
We can also offer the following services:
Onsite metallurgical testing, including PMI, chemical analysis (XRF & OES), microstructure replication, hardness testing (Brinell and Leeb),surface roughness testing and ferrite measurements
Material Identification and microstructural examination
Grinding Media Analysis
Metallurgical Failure Analysis
Research and Development Testing
Batch Testing of Threaded Fasteners
Weld Procedure / Welder Qualification Testing
Reprocessing of Fasteners to Specific Grade Designations
Design and fabrication of testing jigs and apparatus
Heat treatment of materials
Expert Services
Our range of expert services extends to:
Rail Weld Joints
Pipe and Structural
Welds
Fasteners (Nuts, Bolts and Screws)
Chemical Analysis (XRF and OES)
Macroscopic and Microscopic Examinations
Tensile, Compression and Shear Testing
Hardness Testing
Charpy Impact Testing
Specialised Corrosion Testing
Fatigue Testing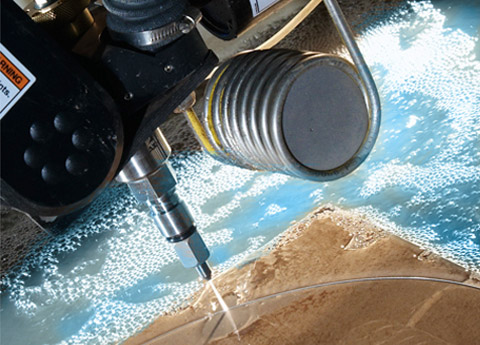 We use an Omax© Water Jet Cutting machine for sample preparation.
No heat input and highly accurate cutting (+/- .01mm) are two features of this machine, as well as reduced preparation time. Capable of cutting up to 200mm thick materials, including carbon and stainless steels, manganese, white metal and other wear hardening steels, glass, plastic, rubber, wood and other materials.