Material Identification is a systematic approach to identify particular grade of material for reverse engineering, alteration or repair of the existing assets or products, non-traceable material and use of substitute material.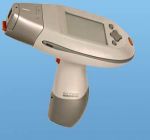 The initial stage in Material identification involves identifying the source of material ( stray, batch mix-up) product application( tensile, compression, fatigue), form of material ( casting, forgings, rolled, extruded, welded), shape of material ( plate, sheet, pipe, solid, preformed) followed by chemical analysis, surface and core hardness, tensile test, case depth evaluation, microstructure condition.

On most of the occasions, a simple positive material identification (PMI) using portable OES or XRF analyser such as Thermofisher Niton XLT 818 or Innov-X Alpha can identify most of the alloys.
For most of the carbon steel materials, mechanical testing is required to conclude the exact grade of material.
LMATS comprises a team of Metallurgist, Engineers, Scientist and Engineering Technologist.

The combination of these professionals from different speciality areas ensure that the material identification is performed precisely and within shortest duration.

LMATS Melbourne and Sydney laboratories performs material identification everyday for various industries. LMATS is NATA accredited.