Rail Straightness and corrugation measuring
LMATS Digital Straightness and corrugation measuring services for increased track safety by, the condition of the track, significant points or any rail flaws are detected and digitally documented by the LMATS rail measurement technician on-site
LMATS uses an electronic straightedge for Straightness and corrugation assessment, the corrugation measuring function allows us to determine both straightness and short-waved components of the actual geometry. The Digital Rail Straightness and corrugation measuring equipment allows for the measurement of slope angle as per AS 1085.20 which allows assessment to Alignment tolerance grade AT1 which is not possible with a traditional steel straight edge. See Table Below **

LMATS inspect for straightness measurement of gauge face and running surface and for corrugation measurement of longitudinal rail profiles.
Determination of these flaws or surface anomalies is possible by using different wavelengths of which 4 can be used:
10-30 mm
30-100 mm
100-300 mm
300-1,000 mm.
The measurements on the rail are digitally transferred to a handheld device where they are stored on a computer and can be displayed and documented later. The measurement data is uploaded directly so it can be analyzed and accessed later.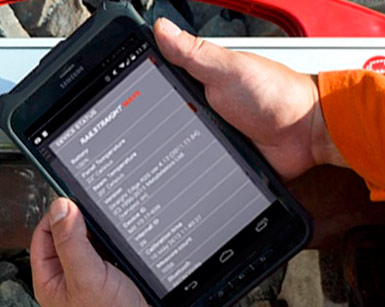 The LMATS Rail Straightness and corrugation inspection NDT solution techniques are:-
Fast, Accurate, Traceable a digital paper trail
Advantages of a Digital Rail Straightness and corrugation assessment
High-precision measurement results with respect to the straightness and surface quality of rails and when it comes to the location of corrugation
Comprehensive electronic documentation of straightness and corrugation measurements after grinding work to protocol the acceptance of the measurement result on-site
Geolocation coding for the report
Fast acquisition of measurements
Highly accurate
Repeatable
Traceable

Benefits of Digital Rail Straightness and corrugation assessment:
Lower maintenance costs by monitoring the wear of the rail and wheel interface, find a flaw before it becomes major
Aids in the precise track positioning
On-site analysis of the measurements possible
Extensive digital measurement records and documentation
Straightness measurement for welding, fishplate and insulated joints after maintenance
Measurement of short, medium and longwave track defects and corrugations

The Technical bit
| | |
| --- | --- |
| Measuring length | 1 m and up to 5 m via overlap |
| Horizontal resolution | 500 points |
| Linearity error | ± 0.5 % |
| Measuring range | +1 -2 mm |
| Vertical resolution | 0.001 mm |
| Display resolution | 0.01 mm |
| Measuring time | 6 sec |
| Ambient temperature | -10°C +50 °C |
| Rail temperature | -20°C +60 °C |
AS 1085.20 Alignment tolerance grade AT1
Vertical
0.0 - 0.3 mm
Horizontal
± 0.05 mm
Maximum slope angle on top of Rail
± 7 mm **
** Measured over a distance of 100mm along the rail surface and 50mm either side of the weld centre line.


Contact us today and find out how an LMATS Digital Rail Straightness and corrugation assessment can ensure the safety and integrity of your tracks.