Welder testing or commonly referred as Welder Qualification in Australia or Performance Qualification (as per ASME IX, AWS, API Standards) involves welding a test coupon in accordance with a qualified welding procedure (WPS); under the supervision of a Welding Supervisor or witnessed by a Welding Inspector or an Engineer. It is also a common practice to simultaneously accomplish Welder testing (Performance Qualification) while developing a Welding Procedure and while qualifying a WPS or a Production weld.
LMATS staff and laboratories can assist you in supervising or witnessing your welders to weld a test coupon at your premises, on-site or LMATS workshops. Refer to the following photograph of welding booths available at our Perth workshop equipped with welding machines, welding electrodes, consumables, gas and all essential tools to complete a weld test coupon.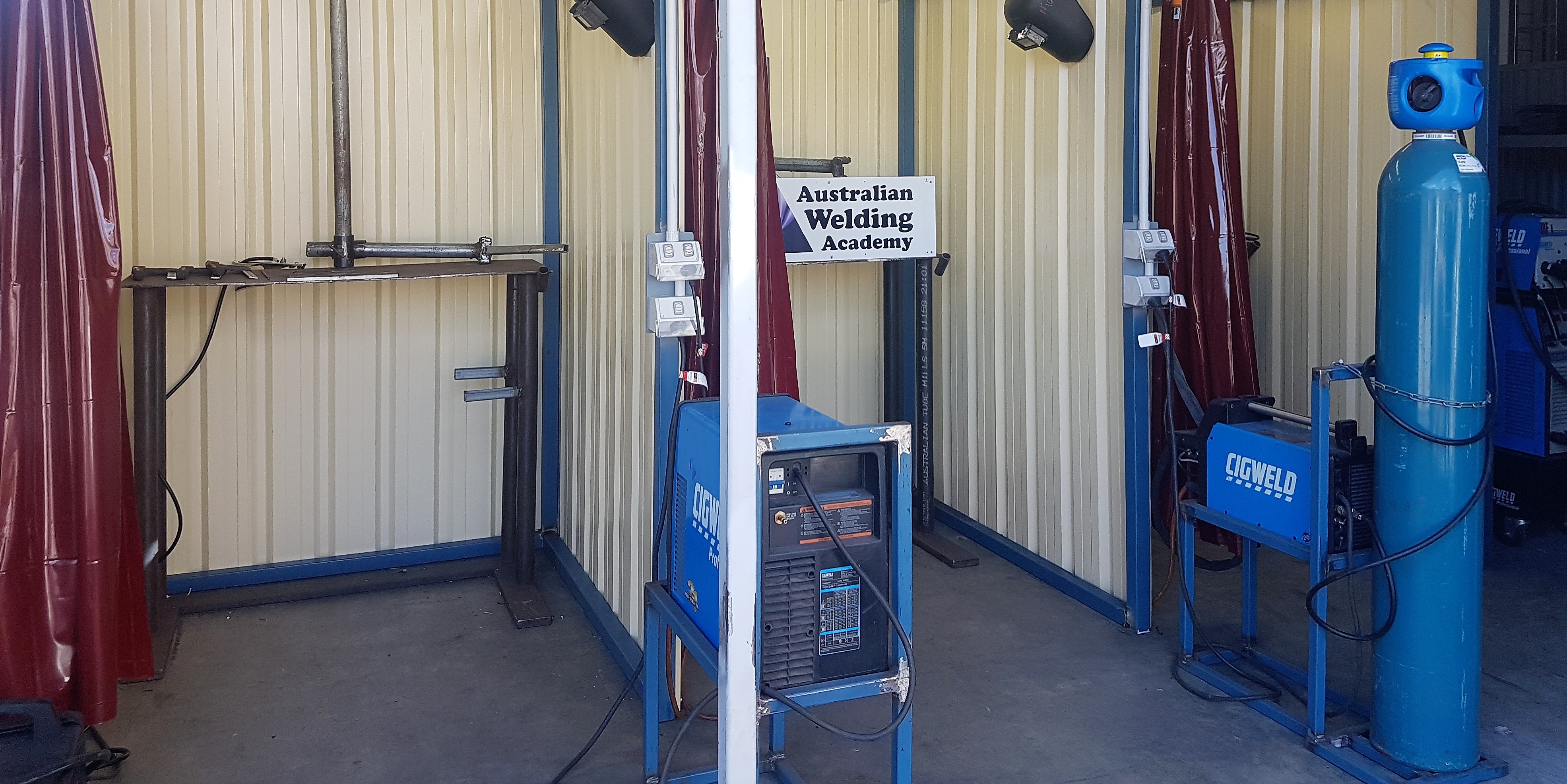 At LMATS premises, one of the Welding Engineers / Supervisors / Inspectors can assist you or your welders in hands-on welding training, welding upskilling, practice weld run, weld procedure development or other theoretical knowledge sharing.
Welder Training
LMATS operates Welder Training program under our registerred trading name as Australian Welding Academy.
After the test coupon is welded, the quality of the Weld length is inspected by a competent personnel; usually an Inspector. This process is called as Visual Test or Visual examination. The terminology largely depends on the applicable Standard.
If the weld quality complies with the essential quality requirements of the Standard, the test coupon is subjected for further quality assessments. Usually NDT such as Radiographic test (RT), Ultrasonic test (UT), Magnetic Particle test (FMPI or MPI or MT) and Liquid Dye Penetrant Test (DPI or PT) is adequate to evaluate the quality of the test weld. Some of the International Standards specify additional mechanical tests depending on the type of the weld process or a weld position.
The mechanical tests are usually a Macro test or a bend test or a fracture test (Nick break or fillet break). Occasionally the end client may also specify additional mechanical tests such as tensile, impact, hardness survey, corrosion resistance test and ferrite number test.
LMATS can complete most of the tests within agreed time frame from the date of receipt of weld test coupons. The test results are advised to clients immediately after completion of the test. For further information and your project requirements, contact one of the nearest LMATS laboratories near your location. LMATS currently offers testing services from its laboratories in Melbourne, Albury, Sydney, Newcastle, Brisbane and Perth.