Faster radiography with digital portability (On‐site results)
LMATS offers NATA accredited computed radiography (CRT) on welds and corrosion under insulation (CUI) profile radiography.
Computed radiogaphy is almost similar to conventional radiogaphy except a phospher coated flexible plate is use instrad of conventional silver halide coated polymer film. The phosher coated flexible plate captures latent image of the component exposed to radiation and is transformed into a digital radiographic image. Unlike conventional silver halide film, there is no need for a dark room, chemicals and wet processing. LMATS CRT Computed Radiographic testing is performed using X-ray or gamma ray radiation.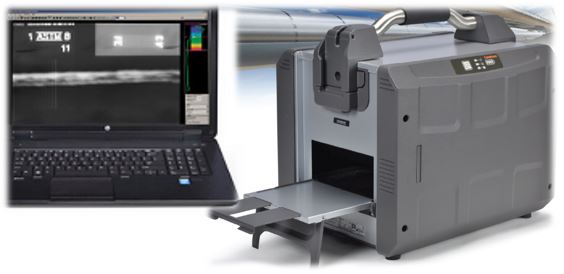 Advantages:
Faster as compared to conventional film based radiography
Lesser radiation exposure time - Hence less production disruption for the client
No additional cost to the client
Digital radiograph that can be viewed by the client anywhere in the world
Onsite Results - Image processing while radiography (almost real time imaging)
Digital image processing can aid in detecting very fine, small discontinuities
No need of image illuminator for the client
No need of onsite dark room
Environment friendly - No need of chemicals for processing image
No need of Silver based polymer films
Numerical wall thickness or pitting depth measurement capability
Longer retention period for digital radiograph as compared to conventional films
Traceability, Repeatability, Reproducibility
Applications:
Examination of new or in-service welds - Ferrous, non-ferrous, plastics, polymers, fibre glass, rubber, ceramics, etc
Examination of new or inservice castings, forgings, wrought products,
Wall thickness measurement of in-servie, insulated pipes and components
Detection of internal imperfections in process piping, plant, etc
Examine internal circuits of automotive or electronic components
Condition monitoring of pitting or crack
Corrosion assessment and monitoring
Typical Industries:
Oil & Gas
Power generation
Fabrication & manufacturing
Chemical plant
Petro Chemical
Automotive industry
Food and beverage
Transport
Aerospace
Marine
The original archived image cannot be altered (Read Only), thus maintaining the integrity of the raw data. Without altering the archived image, the electronic image-viewing software can be sharpened, filtered and zoomed for analysis by the technician or customer to enhance evaluation.
Advanced NDT - CRT Computed Radiographic testing of live gas lines
Advanced NDT - CRT Computed Radiographic testing for corrosion under insulation
Advanced NDT - CRT Computed Radiographic testing of but welds on pressure vessels and pipes
LMATS offers CRT - Computed Radiography regularly for its clients in VIC - Victoria Melbourne, Ballarat, Bendigo, Dandenong, Wodonga, NSW - New South Wales, Albury, Sydney, Newcastle, Coffs Harbour, Central coast, Qld - Queensland, Brisbane, Gladstone, Chinchilla, Rockhampton, Tasmania and other states as required by our customers.
To find out more about LMATS Advanced NDT Tracable CRT Inspection Capabilities simply call us or contact us +61 3 9399 8145 or via the form