Light Pole sleeving length measurement using PECT - Pulsed Eddy Current test
Measure sleeve overlap distance in poles by measuring combined thickness of steel using PECT technology.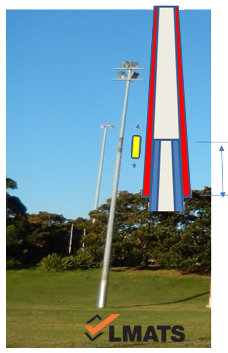 Pulsed Eddy Current testing – PECT is a portable rapid thickness measurement technique on steel substrate. It can measure thickness through a layer of insulation or cladding or concrete with high precision or measure thickness of substrate steel through a steel casing or sleeve with acceptable accuracy. E.g. Steel pipes or poles inserted in structural steel sleeves or plates. A classic example of this application would a light pole or sign structure mast inserted into a structural sleeve.
In the absence of original drawings or known thickness or tube insertion length, industry end users have been specifying radiographic method to measure the length of the steel pole inserted into the structural steel sleeve. Ultrasonic test method cannot be applied in structural joints like these due to an acoustic gap between the outer and inner steel tubes.
Considering known hazards of radiation and difficulty of creating exclusion zones in public places, LMATS staff has applied a non-radiation Pulsed Eddy Current technique to determine the engagement length of the pole inserted in to the structural sleeve by measuring combined thickness of the pipes within the sleeve insertion length.
Overlapping sections are precisely measured and mapped and a 'C' plan view is given to the client for the purpose of engineering calculations and addition of other equipment on the light poles or sign structures.
Advantages:
Pulsed Eddy Current testing has following advantages in light pole or Sign structures testing.
PECT is a non-radiation technique hence exclusion zone is not required in the public places.
EWP is not required for PECT because distance up to 30m can be scanned from ground level.
PEC is very fast and on-site assessment method. 1/100th of the speed of radiation technique.
PECT is economical test because unlike Radiography only 1 personnel can do the job.
PECT instruments are highly portable as compared to Radiography instruments. PECT instruments can be carried as check-in luggage without dangerous goods permit requirements.
Unlike ultrasonic testing, acoustic coupling is not required. PECT can measure steel thickness of 2 plates or wall thickness having an air gap.
Ideal Applications:
Light pole or sign post structures testing.
Corrosion or thickness testing of light poles, pylons and structures.
Thickness testing of Culverts and level crossing pipes.
Technology:
Click on this link to read details about Pulsed Eddy Current testing on the main webpage.
Expertise:
Compared to conventional ultrasonic testing or radiographic testing, Pulsed Eddy Current - PEC testing instrument and sensors are complex and expensive. This test method requires highly trained, skilled and experienced technicians. LMATS staff are certified and experienced engineers to provide Pulsed Eddy Current - PEC testing.
LMATS offers Portable PECT regularly to its clients in VIC - Victoria (Melbourne, Ballarat, Bendigo, Dandenong, Wodonga, Gippsland), NSW - New South Wales (Albury, Wodonga, Sydney, Cooma, Newcastle, Coffs Harbour, Central coast), Qld – Queensland (Brisbane, Gladstone, Chinchilla, Rockhampton, Tasmania) WA – Western Australia (Perth, Bunbary, Collie, Pilbara, Karratha, Esperance, Geraldton, Mandurah, Kalgoorlie, Kambalda, Newman, Olslow) and other states as required by our customers.
To find out more about LMATS Pulsed Eddy Current testing Capabilities simply contact one of the nearest LMATS branch or contact us on +61 3 9399 9199 to get instant information.