Advanced NDT Tube Inspection
LMATS offer Eddy Current Array Tube Testing. These ECA Tube Inspections are used to identify tube condition affecting short-term reliability and identify immediate remedial maintenance needs. LMATS are also able to identify trends (component and plant monitoring) for medium to long-term reliability and maintenance planning.
LMATS regularly inspect:
Heat exchangers
Boiler tubes
and finned fan coolers.
LMATS Advanced NDT ECA – Eddy Current Array Tube Testing Ultrasonic Testing services covers the following industries but not limited to:
Petro Chemical
Gas
Oil
Energy Generation
Transport
Aerospace
Marine
Manufacturing
Refrigeration
and more.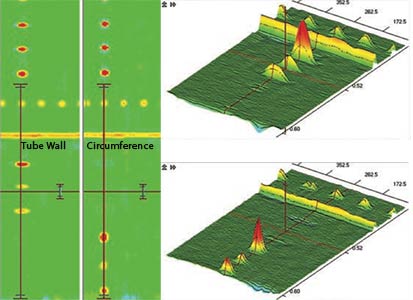 Tube testing with enhanced defect sizing
Simultaneously detect Axial, circumferential and longitudinal discontinuities in single pass. Speed = 12meter/minute.
3D mapping of tube circumference and length
To find out more about LMATS Advanced NDT Tracable ECA Inspection Capabilities simply call us or contact us +61 3 9399 8145 or via the form