Under Insulation Corrosion detection Advanced NDT CRT Computed Radiographic Inspection
LMATS offer CRT Computed Radiographic Testing for under insulation corrosion detection. These CRT Inspections are used to identify tube condition affecting short-term reliability and identify immediate remedial maintenance needs. LMATS are also able to identify trends (component and plant monitoring) for medium to long-term reliability and maintenance planning.
Advanced NDT CRT Computed Radiographic Inspection ON SITE IMEDIATE RESULTS
LMATS regularly inspect for Under insulation Corrosion:
Pressure Vessels
Very Thick Materials
Insulated Butt welds.
LMATS Advanced NDT CRT –Computed Radiographic Testing services covers the following industries but not limited to:
Petro Chemical
Gas
Oil
Energy Generation
Transport
Aerospace
Marine
Manufacturing
Refrigeration
and more.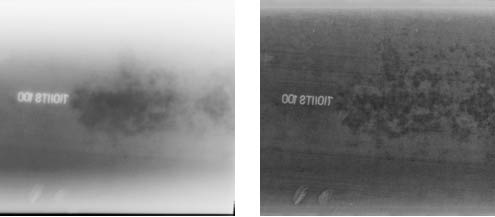 Under insulation Corrosion detection (On‐site results)
Conventional image and Computed radiograph with image enhancing effects
To find out more about LMATS Advanced NDT Tracable CRT Inspection Capabilities simply call us or contact us +61 3 9399 8145 or via the form