SRUT – Short Range Ultrasonic testing
Short Range Ultrasonic testing also commonly known as SRUT is one of the Ultrasonic test methods wherein the ultrasonic waves are transmitted in the form of pulsed guided laminar waves using special purpose ultrasonic probes. When laminar waves hit discontinuities they are mode converted and the reflection of the waves are detected by the transducer.
This ( SRUT ) method is:
Fast, Accurate, Traceable, and Archivable a digital paper trail

Short Range Ultrasonic testing – SRUT is a screening non-destructive test method to detect corrosion on the pipe wall or plates concealed under support structures or structural shell. The special SRUT probe is placed away from the area of interest (generally concealed surface) to scan up to 1m of material length without losing adequate sensitivity. Approximately 60mm equivalent diameter area (free from coating) is essential to contact the special probe on the material. Testing can be performed while the plant or assets are in-service. Annular rings under the Tanks shells are best inspected using Short Range Ultrasonic testing – SRUT.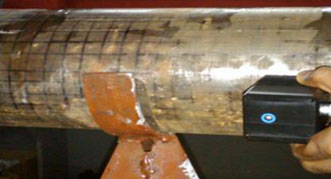 Although Short Range Ultrasonic testing – SRUT is a screening technique used on wall thickness range of 6 to 25mm, this test method can locate the discontinuity location and size to an accuracy of ±10%. SRUT can detect discontinuities such as corrosion, pitting & erosion. Generally detected discontinuities are reported in the percentage remaining wall thickness and categorized into various severity level.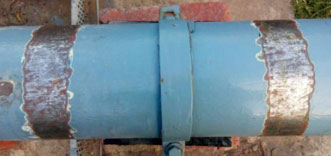 Ideal Applications:
Most ideal for rapid detection of corrosion and erosion including sizing in accessible areas for up to 2metres length under structures e.g. Annular rings, Braces, brackets, saddles, legs etc
Short Range Ultrasonic testing can detect metal loss in steel plates and pipe walls concealed under the support structures or annular plates in tanks
Tank floor annular ring, annular plate
Steel having concrete coated interfaces
Under pipe support and pressure vessel support
Pipes above 200mm diameter and any flat surface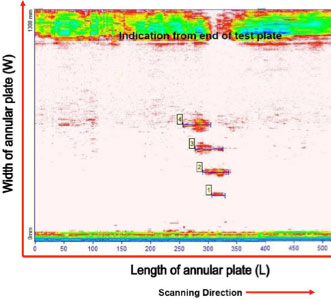 Advantages:
Short Range Ultrasonic testing (SRUT) probes uses multiple frequencies and thus it can identify all indications
Rapid scanning of annular rings, under support and cement walls
100% of surface area (up to 2m length) can be scanned within single inspection.
Limitations:
Short Range Ultrasonic testing (SRUT) can be conducted at ambient temperature only
Wall thickness measurement accuracy is ±10% as compared to conventional ultrasonic testing
Although SRUT can detect discontinuities on the internal or external wall, this test method cannot discriminate between the inner wall or outer wall discontinuities
Short Range Ultrasonic testing (SRUT) can be conducted on 6 to 25mm thickness range.
Expertise:
Compared to conventional ultrasonic testing, Short Range Ultrasonic testing (SRUT) instrument and sensors are complex and expensive. This test method requires highly trained, skilled and experienced technicians. LMATS engages certified and experienced engineers to provide Short Range Ultrasonic testing (SRUT).

LMATS engages certified and experienced engineers to provide SRUT – Short Range Ultrasonic testing.

LMATS offers SRUT – Short Range Ultrasonic testing testing and inspections from our Melbourne, Sydney, Brisbane, Albury, Malaysia and India laboratories.
LMATS regularly performs SRUT – Short Range Ultrasonic testing testing in VIC -Victoria, NSW - New SouthWales, QLD - Queesnland, QLD - Brisbane, SA - South Australia, TAS - Tasmania, NT -Northern Territory, WA - Western Australia and some of the countries aroung the world.

To find out more about LMATS SRUT – Short Range Ultrasonic testing Advanced NDT Tracable Inspection Capabilities simply call us or contact us +61 3 9399 8145 or via the form

{div}

{/div}