RFT- Remote Field Testing - Tubes
Electromagnetic tubing testing and inspection using the Remote Field Testing system (RFT) method
Remote Field Testing or commonly called as RFT is an electromagnetic testing method used to detect discontinuities in small diameter ferromagnetic (Carbon steel) tubes and pipes. RFT - Remote Field Testing is essentially a through transmission test method wherein the receiver coil detects electromagnetic field which has traversed through the tube wall
Fast, Accurate, Traceable a digital paper trail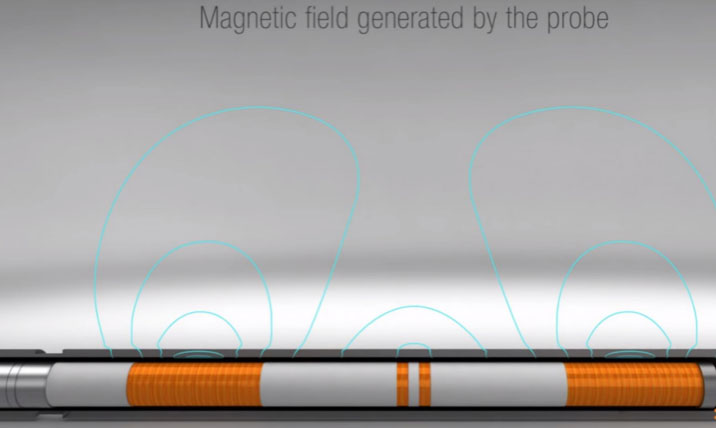 The basic RFT - Remote Field Testing probe consists of two coils (or multiple in pairs) in a send-receive configuration. Exciter coil is energized with a low frequency Alternating current to send a magnetic flux to the detector coil which is located at approximately 2-3 times the outer diameter of the tube under test. The magnetic flux travels radially through the tube wall to the outside diameter, then propagates axially and then traverses back through the wall reaching to the detector coil.
RFT - Remote Field Testing uses a low frequency signal which allows electromagnetic energy to penetrate the tube walls so that external and internal flaws can be detected with approximately the same sensitivity. There are essentially two travel paths of the magnetic field between the transmitter and the receiver coils. Magnetic field that has travelled inside the tube is one of the planes wherein the field is attenuated by circumferential eddy currents in the tube wall. The other field path which initiates at the transmitter coil traverses radially outward through the wall then spreads axially along the tube and re-enters back through the pipe wall to reach the receiver coil. On the outer field, magnetic field distributes swiftly with less attenuation. The through-transmission allows external and internal defects to be detected with equal sensitivity.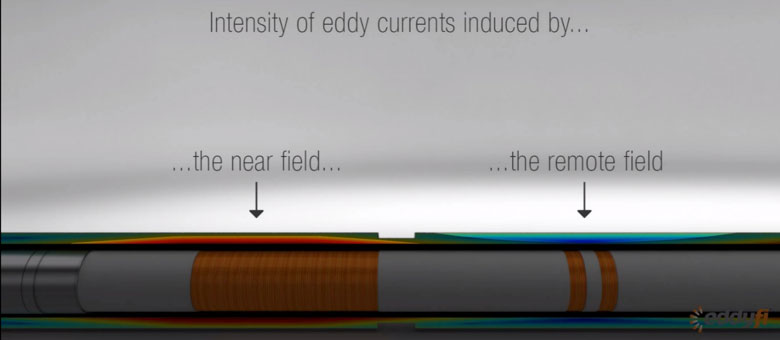 Whenever there is a tube wall thinning, the electromagnetic field arrives with better amplitude (due to less attenuation) but delayed (phase delay) to the detector coil. Discontinuities anywhere in the travel path cause changes in the magnitude and phase of the received signal. Using the Voltage plane graphs and the strip chart, phase delay and the amplitude of the signal is used to detect and size metal loss precisely. Using Voltage plane graphs, defects can be measured for its depth and volume. LMATS uses Eddyfi's software Magnifi for signal analysis and reporting.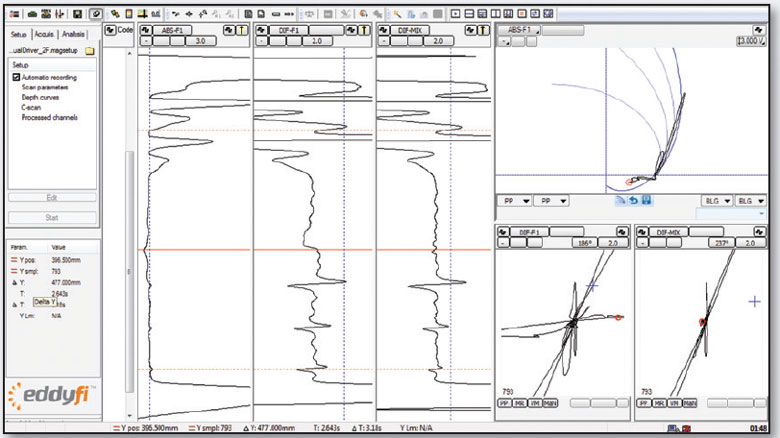 Ideal Applications:
Most ideal for boilers and heat exchanger tubes due to its applied low frequency.
RFT is most method for ferrous tubes such as ASTM A179, A214, boiler tubes, ferritic SS (SS439), Nickel and other ferromagnetic alloys.
RFT can detect and measure discontinuities such as internal erosion, baffle wear, pitting, etc.
RFT can measure wall loss, pit size by using adequate probes.
Advantages:
RFT can detect ID and OD indications with the same sensitivity.
RFT can be used on ferromagnetic materials where Eddy current testing has limitations.
RFT is very sensitive to the wall thickness variations.
Expertise:
Compared to conventional eddy current testing, RFT – Remote Field Testing instruments and probes are complex and expensive and requires highly trained, skilled and experienced technicians.

LMATS uses Eddyfi Ectane 2 unit for IRIS test method. LMATS professionals are trained and experienced in RFT – Remote Field Testing tube testing.
See the Heat Exchanger tube testing selector to understand and make informed decision on the type of advanced NDT test method you may need to determine the integrity of your heat exchanger tubes.


LMATS offers (RFT) - Electromagnetic tube testing and inspection using RFT- Remote Field Testing system from our Melbourne, Sydney, Brisbane, Albury, Malaysia and India laboratories.

LMATS regularly performs on-site (RFT) - Electromagnetic tube testing all over Australia in VIC -Victoria, NSW - New SouthWales, QLD - Queesnland, QLD - Brisbane, SA - South Australia, TAS - Tasmania, NT -Northern Territory, WA - Western Australia and some of the countries aroung the world.

To find out more about LMATS Advanced NDT Tracable Inspection Capabilities of Electromagnetic tube testing and inspection using RFT- Remote Field Testing systems simply call us or contact us +61 3 9399 8145 or via the form

{div}

{/div}